Ted Bundy, Jeffrey Dahmer, the BTK Killer, all pass polygraphs — Jacqueline Perez
Pants on Fire is the 5th episode of the first season of the Murder in the First TV Show. The new trail on the Cindy Strauss murder case appear, meanwhile Terry and Hildy relation complicates due to latest event.
Synopsis
Edit
After Warren Daniels withdrawal from Erich's murder case, David Hertzberg struggles to get Erich released from custody. He succeeds despite having near zero experience as a criminal layer.
After being released from prison Erich realizes that the only way for him to get away with the case is Daniels. Together with David Hertzberg they will try to persuade the lawyer. Initially against it, Warren will finally agree after hearing Erich's proposal. However, he will insist on adding a new condition to their agreement, a polygraph test.
Meanwhile, Jimmy Salter leads his own investigation and while trying to figure out the case he unwillingly leads the police to a new trail. It turns out that the nearby factory, the Hong Kong Pickles, has a heavy surveillance monitoring system. It records Mark Strauss while he slips away through the pub's back doors, which belies his alibi.
Mark is once again caught and interrogated by detectives, leaving them with a new alibi for himself. Hildy and Terry follows Strauss' story and find out a woman with whom he supposedly spent the missing time. Dr. Sally Smoot needs to be persuaded before she decides to tell the truth and validates Mark's story, leaving the detectives in a dead end.
As the relation between Hildy and Terry got complicated, they are trying to smooth it out, on each irresistibly failing to do so. Also Erich's private jet pilot, Bill Wilkerson is struggling with his own relationship. His wife ran away during his trip to Burning Man in Nevada. Erich decides to help him in his search leading him with a debt of gratitude. Bill confronts his wife to learn that she has found out about his affair with Cindy Strauss.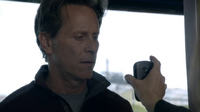 After David Molk's karaoke birthday party, Hildy Mulligan drives back to her house to find out that Erich is waiting there for her. A little scared, she refuses his after-all-of-this-is-finished dinner proposal.
during one of the police station scenes Jim Koto uses a big red mug with an S on it, presumably a [2]
Jacqueline Perez during her conference uses names of real world serial killers who passed the polygraph test