Mulligan: So, when do I get to go back to work?
Koto: The moment you walk out that door. — Burning Woman
First episode of Murder in the First TV Series.
Synopsis
Edit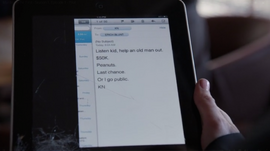 SFDP detectives 
English
and
Mulligan
investigate the murder of a junkie -
Kevin Neyers
in the drug den in the
Tenderloin
. On the crime scene they discover an iPad with the broken screen with an email in which Kevin blackmails
Erich Blunt
- Silicon Valley prodigy and the CEO of
Applsn
.
Detectives learn from Kevin's dead girlfriend's parents that Kevin was a pimp, drug dealer and a biological father of Erich Blunt.